Premium Countertops
Balance practicality and strength with renowned quality and excellence in your kitchen redesign. From the first measurement to the final installation, our team keeps you in-the-know, discussing every idea, concern and special request you have along the way.
Quality Materials
Integrate the raw beauty of nature into your interior design space using natural stone. California Countertop provides your design a robust and dynamic range of materials that can be applied in an array of vignettes. An unexpected combination of distinctive materials, colors and textures allows customization to suit your personal style and sense of comfort.
Our exclusive selection of exotic tile, quartz, granite, marble, limestone, travertine, riverstone, slate, quartzite, sandstone, onyx and soapstone provide architectural and design solutions for both residential and commercial spaces.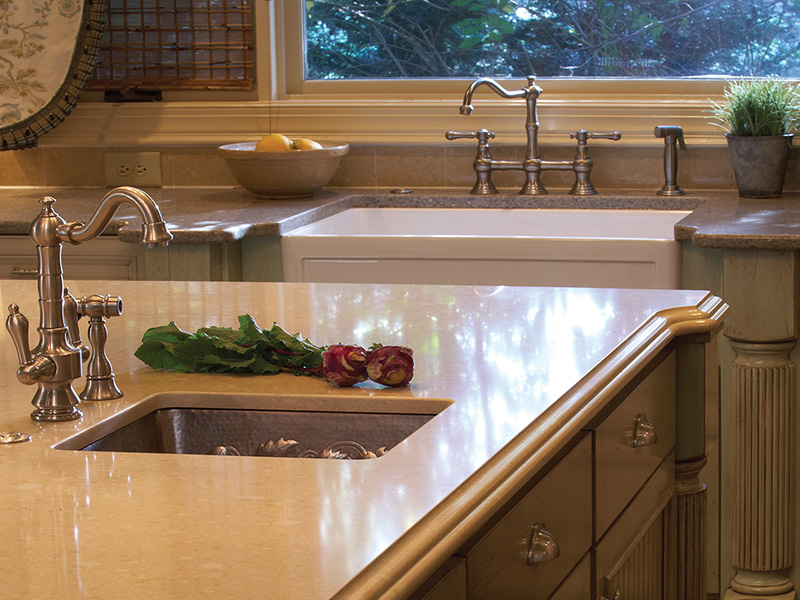 Edges & Cutouts
Using the California Countertop brand's custom craftsmanship and state-of-the-art edging technology, we're able to produce edges that will enhance the entire design.
Edges like the t-edge offer clean lines and simple design to add subtle elegance in both modern or traditional kitchens. The bull nose and half bull nose edges round off your countertops with a timeless classic look. More ornate edges, like a waterfall treatment, beveled or chiseled options work well in traditional kitchens. Our fabrication technology easily allows you to customize your profiles, too.
Backsplashes
Often left to the final detail, your kitchen's backsplash is a statement of your personal style. Refined or risky, neutral or loud: The right backsplash helps your kitchen in reaching its design potential. As practical as they are creative, these durable tiles provide a focal point in your kitchen. Our tile centers feature exclusive tile lines, including Ann Sacks Tile and Stone, Fireclay, Rocky Mountain Hardware, Encore Ceramics and Ragno. No matter your preference we'll pair you with the perfect solution.